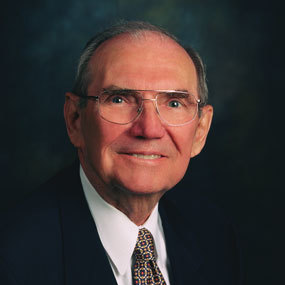 William A. Freeman
Established in 1988 by Georgia Teachers College alumnus William A. and Betty T. Freeman, this scholarship is provided to financially support outstanding students. Mr. Freeman was born in 1930 in Evans County, Georgia and graduated from Georgia Southern University in 1957. In 1990's, Georgia Southern awarded him with an Honorary Doctor of Letters and was inducted into the Parker College of Business Hall of Fame. During his life, he served as a partner in the Davis and Freeman Accounting Firm, officer and Director of Provident Broadcasting Company, member of the Board of Directors of Radio Training Network, and President, Director, and Chief Financial Officer of Watkins Associated Industries. Mr. Freeman was instrumental in establishing the Watkins Christian Foundation Chair of Ministry Experience at Mercer University where he also served as Trustee. He also served as a Trustee on the Watkins Christian Foundation, was an organizer and Vice-Chairman of the Board of the Merchant Bank, a founding member and Director of Georgia Banking Company, a member of the Advisory Board of Directors of the Atlanta Chamber of Commerce, a member of the Board of Directors of the Georgia Public Library Foundation, and President and Director of Waco Fire and Casualty Company and Provident Security Life Insurance. Mr. Freeman passed in 2000. At Georgia Southern, he served on the Georgia Southern Business Advisory Council and was named the Parker College of Business Alumnus of the Year in 1991.
Landon Latham said the William A. Freeman Scholarship has helped him maintain a 4.0 GPA since he arrived at Georgia Southern University in the fall of 2008 to enroll in the Honors program. The outstanding scholar applied for it during his senior year in high school in Douglas, Ga. and said he was ecstatic when he was awarded the scholarship from the only college he wanted to attend.
"It pays for me to go to school for no money out of pocket if you combine this scholarship with the HOPE award," and he continued, "I feel so blessed."
The college experience for the double major in economics and regional development has been so profound he believes he has found his career calling.
"I want to become a college professor and devote research to health care and health care costs. I think those are the biggest issues facing our country right now and the next decades are going to be major challenges," he said. "What will happen to health care costs when baby boomers get older and the older population becomes much bigger?"
In addition to Latham, Dr. Luke Pittaway, pictured, is also a recipient of the Freeman family's generosity. Pittaway is the director of the Center for Entrepreneurial Learning and Leadership and the William A. Freeman Distinguished Chair in Free Enterprise. Pittaway joined the faculty at Georgia Southern from the University of Sheffield where he was the Director of Enterprise Education for the Centre for Regional Economic and Enterprise Development.
In his role, Pittaway is moving the University and community forward in the areas of economic development and entrepreneurship with the Center, which assists in the development of entrepreneurial ventures for local businesses and alumni. The Center also provides enterprising skills and small business management programs and activities for students.
"I enjoy working with students and providing them with the opportunity to learn in a different way," he said about building a network of student entrepreneurs and local businesses. "I love working in this community, and there are many opportunities to continue building stronger bonds. We are making an impact."